Humans of OU-HCOM

As a Graduate Assistant to Ohio University's Heritage College of Osteopathic Medicine, I contributed to the project, Humans of OU-HCOM, an ongoing portrait series that aims to both celebrate and encourage the diversity of life experiences within the medical community.
Lidiya Sul | OMS-II
When I was seven-years-old, my mother, sister, brother, and I immigrated from Ukraine to America.
Within days, my mother was out there learning English, working multiple jobs, and had enrolled in nursing school.
I recall, after long days at work, she would come home and share with us the things she learned and experienced at nursing school. Inadvertently, our conversations sparked the curiosity for science in my siblings and me. . Even when she was working as a nurse she would go and take classes at the community college. She would say "I don't want to get cobwebs in my brain." My mother has always enjoyed actively learning and trying to understand things out of genuine joy for learning and helping people. Because for her, nursing was not a means to put food on the table, it was her passion.
So, my mom's passion for medicine drove me to where I am today. And honestly, I have never imagined being anything else but a physician my whole life; it fulfills my love for science, caring for people, and giving back from the education I am receiving.
A lot of times, we get so caught up in thinking that we're the person that got ourselves from point A to point B because we put in the work for it. But we need to be reminded that other people in our lives have also helped us on our journey, whoever they might be. And for me, that path was paved by my family — my mother, my sister, and my brother.
I will never be able to comprehend the sacrifices my family has made for me. Especially the ones made by my mother, raising three kids, being in school, and working multiple jobs to provide a comfortable lifestyle for us, but also providing unconditional support to each of us in our journeys.
I want to take as much as possible from her and have the hunger to learn and keep learning. Specifically, now being a second-year student and studying for my boards.
Lastly, I want to remember that at the end of the day, I am here to learn so that I can better the care and the quality of care for my patients.
Lindsey Callier, OMS-I
When I was young, I wanted to be a ballerina. Then my dad got sick from diabetes complications and lost his vision. My family had to slim down on a lot of things, and rearrange our lives around my dad and his blindness. Regardless, the complications continued to progress.
One day when I had to stay home from dance class and take care of my dad while my mom was at work. I remember taking his bandage off and seeing that his eyes were cloudy and blue. I was so inquisitive. I wanted to know what was going on; that day I recognized my passion for medicine.
Your passion leads you to your purpose. My passion was dance, I loved that. I did it all through college and it paved the way for the journey to med school. And I am so grateful to be here.
Getting to med school was a long journey. I applied three times over a five-year span. I got knocked down plenty of times, saw plenty of horrible scores, told I wasn't good enough, but I just never gave up.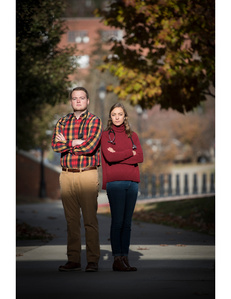 Cole and Bailey White | OMS-II

Medicine shapes our relationship.
This past summer we got married while in med school. And, the dynamic from just dating, to being engaged, to married, has been unique.
We've been together for so long that our lives revolve around medicine majority of the time. But luckily for us we have that constant reminder that we are married and that there's more to life than just being study buddies.
When things get rough, we balance each other by finding a happy medium. If Cole realizes I needed a little extra time off we will take an extra hour to relax or go to dinner. And if Bailey feel that I am pushing through very hard, going through notes all night long, she reigns me in, which is good for my long-term health.
Together, we complement each other, but for the future we are not sure if we can work together because of the fields are both interested in – pediatrics (Bailey), and internal medicine & infectious disease (Cole).
There has been some talk about working collaboratively in running a nonprofit; and if that were to happen he would be the spearhead on that, it is his dream, and I would be one of the physicians who accompanies him and will help him run it.
So, that's definitely something that's in our future whether we are the ones who start the nonprofit or we work with a nonprofit.
But, for right now, we want to stay in Ohio, at least for the next couple years and figure things out.
The best part about being in this together, is that we understand what we are going through.
At times it is a disadvantage because we are doing the exact same thing and follow the same routine, and if you're with someone who's doing something different, you can at least get away from medicine hear about something new.
But, we embrace our similarities and inspire each other.
Nirmala Ghimirey | OMS – II

I was born in a refugee camp in Nepal.
And growing up in a camp you didn't have access to electricity, water or healthcare. Moreover, the camp was gated and you didn't really go outside; so, there wasn't much to do. I never imagined going anywhere further than the camp.
But there were a lot of diseases that made me very curious.
So, after spending 14 years in the camp, my family was finally resettled in Akron, Ohio in 2009. It was different and new.
In a few months after everything was taken care of paperwork wise, I started ninth grade. And at that time, I did not know much English. I knew my ABCD's which was taught us at school in the camp, but in the new school, I did not understand a single word that the teachers said in class. The only thing I knew were the math problems.
Going into 2010, during my junior year, I joined a biomedical program in school and started learning about diseases and science. And I realized, "oh wow! this is something that I'm passionate about and would want to do."
I reach out to my teachers and my mentors about my interest and curiosities; and in meeting with them, they made me realize that I could get scholarships, apply for the Pell Grant, get loans and actually go to college. They helped me recognize that college or high education is not just for people with rich and educational families.
Knowing about all these things, I thought to myself once again "this is something I'm interested in and I want to learn more about the diseases I saw in the refugee camp." And, that's how it all started.
I went to college and then after college, I did my masters and then applied for medical school and now I'm here.
Today, studying about all the germs and parasites that existed in the camp, I don't know how I survived all those years. I think I must have a very strong immune system.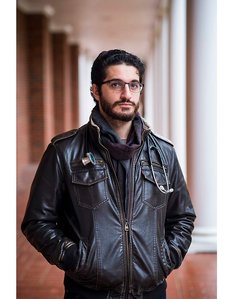 Zyad Smiley | OMS-II

My family is originally from Lebanon. They came here in the 70s, but I was born here.

So, every summer, we would to go back and visit our hometown.
One particular summer, I remember being 12-years-old, after a few weeks of us staying there, a war broke out between Lebanon and Israel.
The first thing they did was bomb the airport. So, my mother, sister, brother, and I were unable to leave. We were stuck there at our grandparent's house in a village with no internet.
We could see bombs going off every day and flashes from the mountains. Until one day, a bomb denoted next door. Immediately, my mom was like, "get all your stuff like we're getting out of here."
While my mom and brother drove, my sister and I hid under blankets in the back seat since only two people were allowed in a car.
After hours, we reached the border of Syria and stayed in Jordan for a few days before we were able to arrange for a flight out to the USA.
Upon reaching home, my friend came over, and he and I went for a swim. There were kids everywhere, and everybody was swimming; everybody was happy, and the drastic change in the scenario was shocking.
The experience stuck me, being so young and facing something like a war gives a different perspective on life, your priorities, and what to take seriously and what not to take seriously.
I will always carry with me the memories of that one summer in Lebanon when we could easily all have died, and I think it is that perspective and gratitude that I have carried with me into medical school and this perspective is something I plan on keeping with me as I become a doctor.
Saron Checkole | OMS-II

I've always wanted to go to medical school.
During my undergrad, I worked as a medical scribe in the emergency department for a year; it was a life-changing experience.
The job was demanding, but it helped me explore the world of medicine from a different view.
I was in there when things were happening, both good and bad things.
And I specifically go back to this one moment at the ER when I knew I wanted to be a physician.
It was 2 a.m., and I was at the end of my shift. When the EMS came in with an injured person in a motor vehicle accident.
Everybody was shocked. There were so many people in the room, and everybody is trying to save this person.
Among the chaos, the physician walks in. His presence was calm, and he knew what to do and who to assign different tasks. It was a mixture of teamwork and leadership.
Standing in the corner, documenting the whole scene was eye-opening. And at that moment, I knew I eventually wanted to be the person who saves people's lives.
And honestly, I don't see myself doing anything else.
Even back home, in Ethiopia, in 11th and 12th grade, I would volunteer at the Ethiopian Cancer Society. In retrospect, I don't think we did a lot, but we would work to set up activities to help donate for families who require support. So, for me, I've always enjoyed caring for people.
And right now, being here, at OU-HCOM, I'm just happy that I get to continue this journey. And hope I'll become a competent physician and try to have a chance to impact people's lives.
Alicia Rodgers | OMS-III

The hospital I was doing my rotation in Adena, Ohio, had a fair number of children who were from multi-ethnic backgrounds.
One day I happened to visit one such room; a mother waited with her three children.
I walked in with my preceptor, and maybe the mother wasn't expecting to see someone with the doctor, but her demeanor completely changed.
It seemed like she felt comfortable in my presence like I was somebody of her own.
I gave my introduction and proceeded to present to my preceptor; all three of her children were there for an acute visit.
The presentation lasted for a few minutes, and then my preceptor began reviewing the exams to make sure I didn't miss anything. While he checked, the mother struck a conversation with me, asking me about my life and my story.
We continued to talk, and, in the moments related, she turned to her boys and said, "oh yeah, tell her who you have your hair like!"
The boys had curly hair cut in a fro-hawk, excitedly, they respond, "it's like Odell Beckham!" and we have this moment where we talk about sports and other related stuff.
The doctor finished examining the kids, and we are about to head out. And as we're exiting the room, the mother calls to me and says, "it was really great to have you, and I hope that you'll be here to give care for us in the future."
That was significant.
I stand out as a black female medical student while serving communities like Adena, which are predominately white. But at that moment, it felt good to be recognized, acknowledged, and values as an example for her children. Something those kids can look forward to and know that they too can dream big.
Alden Test | OMS-I

A lot of folks in rural communities go without health care; for some of them, it is a personal choice, while others face a lack of access to healthcare. And I have always seen myself in the role of a small-town pediatrician.
While an adult can make their choice between receiving health care or not, a child is not mature enough to make that choice. So, there is a need for pediatricians and people who are willing to give time to such communities. Moreover, it is harder to try and figure out what is wrong with a child because they cannot always clarify their issues. Thus, making it easier for parents to take their children to a physician.
Children bring me a lot of joy; I have worked as a nanny and in several preschool classrooms and think that helping children is a unique challenge. To understand a child's perspective and where they are coming from is crucial to my practice as a future pediatrician.
Moreover, rural communities need more accessible healthcare; they need more physicians. Period.
So, when I am ready to work, I see myself working in rural communities in Ohio. I grew up in a rural town of 300 people and, subsequently, understand the value of practicing in a community while also being an active member of it.
I think to know about the people's lives outside of their key condition, or even their chronic condition can help close the access disparity gap in the physician-and-patient experience.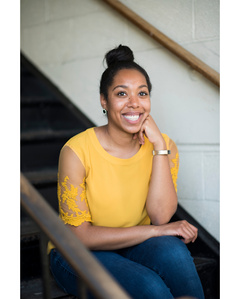 Alanna Meadows | OMS - II

In high school, I started getting interested in nutrition. I took a cooking class for the first time and that took me down the path to understanding how nutrition and exercise are related to your health and how many things go into, what makes a person a person.
That is how the health realm all got started.
Along my journey getting here I was able to connect with a few people who I look up to. I did a program in West Virginia and got to shadow some doctors in the NICU, taking care of babies who were already addicted to drugs, due to the opioid crisis.
The one physician that I worked with that looked like me was so inspiring, The compassion she showed towards every patient that she treated was unlike anything else. She was able to serve a population who are underserved. And when I become a physician, I want to work with that population — the population affected by the healthcare disparities.
I wanted to be a doctor because that is where I feel like I can make the most difference.
And through osteopathic practices and osteopathic manipulative medicine, I can serve the underserved if they don't have the money or the ability to get pain medication. I can try to treat their headache on the spot in front of me and make them feel better through OMM.
It is a unique skill set that only osteopaths get to have, that I have the privilege to learn.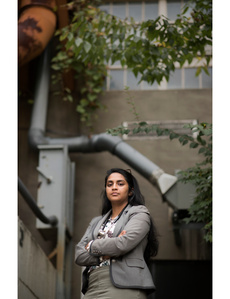 Aiesha Polakampalli | OMS-II

I grew up privileged. So, I believe if you have [the] privilege to live a stress-free life and not worry about socioeconomic status, then it's your job to help others. And, I think being a physician is just a small part of the whole job.
[This past summer,] after one year in med school, I, along with a friend, taught at a women's prison in Ohio.
I remember standing in front of a group of women, [overwhelmed; they] were old enough to be our mothers, and them telling us that they see doctors as someone scary, because people who are incarcerated are not that respected.
It was frustrating to hear what they had been through. [This specific segment] of population are forgotten and [seeing how] grateful they were [for these classes]—was very humbling. [Even though] they'd gone through so much that I have no idea, at the same time, my friend and I were happy that we could be their daughters.
[Even though] it was my clinical education that allowed me to get there, a lot of the things that we do to get in med school and into residency, we have to do it to get a job. But, taking a step back to remember my experience at the prison; which ended up being one of the best experiences in med school, I hope [to do] those kinds things [often], because it makes me happy.
So, when I'm a doctor, I don't want to spend every hour of every day in a clinic. I think I found my population and hopefully, I can see patients and also do other things like teach, educate and bridge those two things.
Hannah K. Miller | OMS-II

They couldn't figure out what it was because it always happens in area like your, shoulders, arms your hips—not a pinky toe.
I went from having so much focus on my looks, who I was, being really active in volleyball, wanting to be an interior designer, [to finding out] at age 16 that I [had] bone cancer.
I've always said, there's pre cancer me and there's a post cancer me, and we are not the same person. I had to mature fast. [While others around were] finishing high school, I was focused on my next goal.It was going to be hard to get into medical school, but I couldn't picture myself anywhere else.
[During the time at the hospital,] my nurses and my pediatric oncologist became my absolute best friends. And I want to be that for my patients in the future. [And moving forward in the career] I want to be able to not only care for my patients as their doctor, but [also have them know] that we are in this together. And that continuity of care is important to me.
I was a perfectly healthy teenager and I got knocked down to being pushed in a wheelchair by my parents. It completely changed me as a person. And, I want my patients to be able to see that they have a doctor who went through something [similar] and that they too can still come out and be okay.
This past December was a big milestone for me, I am considered cured. Sure, I have a lot of like residue left over from my therapy, but I'm in perfect health right now. It has crossed my mind, what if something was to happen, but I try not to worry about it. Moreover, if anything were to happen, my sister, who is a junior in high school, will carry on my legacy. We made a pact with each other.
Everyone has a unique story of what brought them here; mine was cancer for someone else it could be [something entirely different]. And I think it's important to always keep in mind your goal, why you want to help save people's lives and why you believe in the purpose of medicine.
Andrew Williams | OMS-II

Faith is, really believing in something wholeheartedly, before you see it. And faith is essential to me because, to be here at Medical School, I had to have faith.
Growing up in Macon, Georgia, I didn't see a doctor, I didn't see financial stability, I didn't see support and I didn't see MCATS passed.
I went through undergrad and didn't even see a computer in my hands until I started my master's program, and I didn't have my first suit until I went to college. But I was determined to become a doctor.
So, a lot of what I'm experiencing now came through the faith of having a dream and telling myself that I'm going to do my best and let God do the rest. Because, all I can do is put my best foot forward. So, when I shoot, I'm going to shoot high.
And, if I miss, I rather shoot as high as I can and know that I gave all, instead of shooting low and hitting it, and never know the full extent of my potential.
Ask yourself, "is this what's on the inside of me? or am I going to let my dream go to the grave." And if not, it's going to require a certain amount of faith, and that's "seeing it before you see it."
Samantha Nandyal | OMS-III
Several months ago, during my rotation in internal medicine, I received my first code blue, where I had to perform chest compressions on a patient.

I remember my heart beating fast, the smell of bodily fluids, and me performing the chest compressions and silently telling myself that this is a human being, a human life, and that I'm going to keep going until I'm told to stop.
It was the first time I watched someone die in front of me, while I was performing chest compressions, and afterward, I went on with my day. Later that day, I cried and didn't like that everything around me felt normal.
As more codes kept happening, I noticed that I didn't react the same way I did the first time, and that worried me. It felt like I was losing my humanity; that maybe I was no longer the loving person who felt her emotions and cared about people. I was afraid that I wouldn't be able to emphasize with death and loss anymore.
After a lot of journaling, practicing wellness, talking with my friends who are going through the same thing, and talking with a Palliative Care doctor, I've come to accept that I am still who I am inside. And I am growing in my ability not to let the sadness of human loss paralyze me.
The nature of this profession is that we're going to lose a lot of people, and we need to have a moment of mourning, maybe even several moments of mourning for the ones we lose. But at the same time, it is essential to remember to let go so that we can continue to help others.